The proposed program of the WIL 2011 will be the following:

Friday
7:00 - 7:30 pm
Local Rotaractors will welcome you at the Youth Hostel and will invite you for a relaxed and friendly Welcome Drink.
8:00 pm-9:00pm
Dinner at the Youth Hostel
9:30 pm - until you're tired
Meet up at the big wheel at the Schueberfouer, the biggest funfair in Luxembourg and the Greater Region.
- Enjoy the traditional rides like the more than hundred-year-old wooden horse merry-go-round, on the auto scooters or why not feet over head on board of one of the latest funfair thrill machines.
---> For more information go to http://www.fouer.lu/en/Schueberfouer.html
- Move to the city center for some bar-hopping and clubbing...

Saturday

6:30 am - 9:00 am
 Breakfast at the Youth Hostel
9:15 am
Departure for Cargocenter by bus/car 
9:30 am - 11:30 am
Visit of Cargocenter (organized by Hjoerdis Stahl, member of the Rotary Echternach & Moselle, member of the executive board of Luxair). To be allowed access into the Cargo Center an ID copy is required in advance  from everyone (scanned version via email), latest deadline is August 19.
12:00 am -2:00 pm
Lunch at the Hotel Eden au Lac (organized by Garry Binsfeld, member of the Rotary Echternach & Moselle, owner of the hotel)
2:30 pm -5:00 pm
Afternoon, guided visit of Echternach in English combined with a scavenger hunt.
5:00 pm
Return to the Youth Hostel/hotel
7:30 pm - 3:00 am:
Gala Dinner at the Parc Hotel Alvisse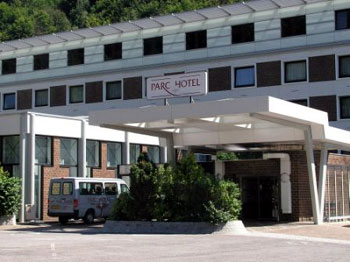 Sunday
6:30 am - 9:00 am:
Breakfast at the Youth Hostel
10:00 am:
Departure for Mudam Museum
11:00 am-12:00 am:
Guided Tour of the Mudam
12:00am – 2:00 pm:
BRUNCH at Mudam

3:00 pm:
Goodbye and see again you next year! Have a safe trip home!
7:30 : Optional : Kaiser Chief concert
 N.B. The progam is subject to change depending on availability and/or weather conditions